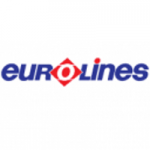 Great news for all ESN members and ESNcard holders: just now you can travel  across Europe forless money and get 20% discount on coach tickets!
EUROLINES coaches will take you comfortably and securely to more than 70 European cities!
CONDITIONS for coach tickets with 20% discounts
this offer is valid for one-way or return international coach ticket (with no-reduction price) for travels from Prague to bellow specified destinations or from the bellow specified destinations to Prague
the discount cannot be combined with other discounts or special offer (discount is not applicable to taxes and other surcharges - extra weekend charges or charges of bike transportation on special bike holders)
you can choose your departure city from the Czech Republic - Prague, Brno, Pilsen, Ústí nad Labem - it depends on the particular coach service and timetable
How to get the discount:
On-line purchase of coach ticket on www.eurolines.cz
Register in ESNcard.org and activate your ESN card. Don't have one yet? Get it in our ESN office.
Visit ESNcard.org/discount/Eurolines-bus-coaches and find a discount code. 
choose your journey - destination, date and time
add your valid discount code and the price of your coach ticket will be immediately reduced
pay by credit card or bank transfer
you will receive the coach ticket on your email address in pdf form or as SMS message directly to your mobile phone (only if you travel to the selected destinations)
The purchase of coach ticket in Eurolines Offices
Eurolines, Coach Terminal Florenc, Křižíkova 2110/2b, Prague 8
Coach station near the hotel Grand, Benešova street, Brno
after showing your valid ESNcard
What benefits can you enjoy with Eurolines? 
1 hand luggage and up to 2 pieces of luggage for free
travel from city centre to city centre
230 V and WiFi access for free in the Czech Republic and abroad